Grow Locally at Durham College
3 Comments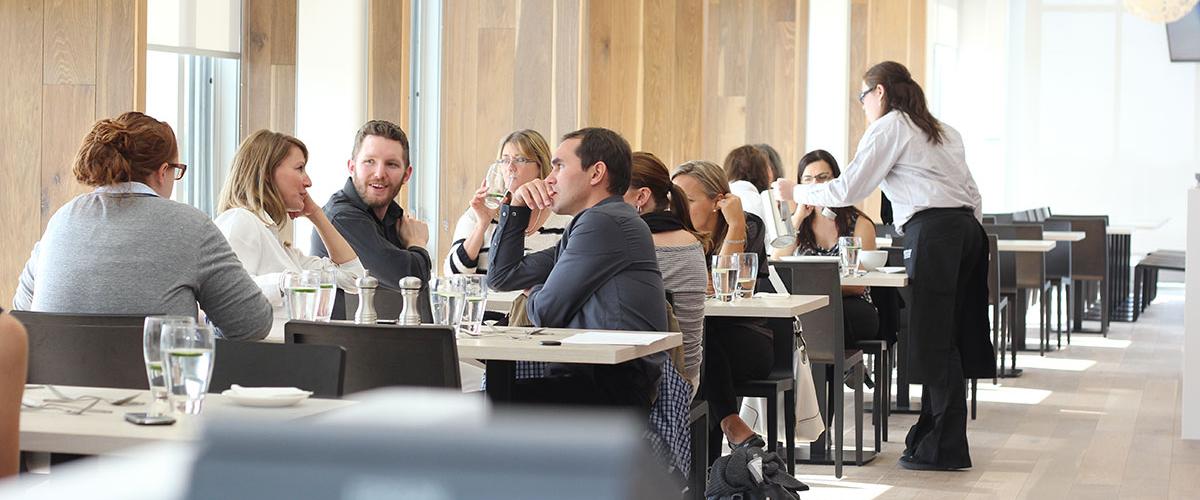 Sunday, December 21, 2014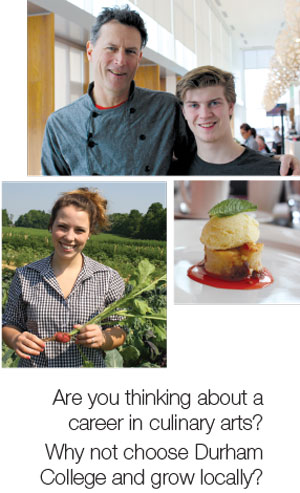 I'm sitting at a long table studded with poinsettias, elegant place settings and bubbling bottles of sparkling water in Bistro '67 next to my son, Scott, a prospective Durham College culinary student. The restaurant is abuzz with excitement in anticipation of today's special guest, the Centre for Food's ambassador and celebrity chef, Jamie Kennedy.
After the opening ceremonies and speeches, a parade of decadent plates made their way from the kitchen to our table. Cucumber and Sheep's Milk Feta Salad with Bulgur Wheat and Cherry Tomatoes to start, followed by a plate of appetizers: Aunt Myrtle's Mustard Pickle, Marinated Pickerel, Curried Sweet Potato Swiss Chard Croquettes and Chicken Liver Paté. Roast and Confit of Duck with Potatoes and Sour Cherries was the main course; and Golden Plum Upside-Down Cake with Dulce de Leche Ice Cream made a divine dessert.
The duck is so delicious that I want to close my eyes and be alone with it! I look over at my son and notice that his plate is completely empty. "You must have enjoyed that," I say. He nods his head in approval and smiles. "It was really good."
Kennedy was at the Durham College Centre for Food (CFF) in Whitby to share the realities of life as a chef with the 130 plus field-to-fork culinary and hospitality students, answer their questions and give them a signed copy of his newly released cookbook J.K.: The Jamie Kennedy Cookbook.
The students prepared and served a three-course meal using recipes from the cookbook, for which they received a standing ovation from Kennedy. "I think I have reached a point in my career where sharing of knowledge is key," says Kennedy. "It's important to instill this ideology in younger cooks coming up, and I'm looking for ways to practically get involved."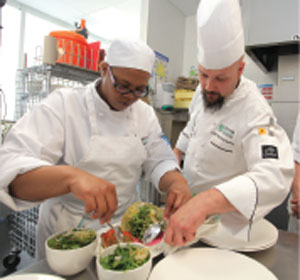 And Durham College has a spectacular way to "get involved," embracing local, organic, sustainable agriculture and food. It now offers Durham Region's first field-to-fork programs at the Centre for Food, a $23 million, 36,000 square foot facility that can accommodate 900 students studying in the culinary, hospitality, tourism, agriculture, and horticulture sectors. The facility is equipped with the latest culinary equipment, plus a lecture theatre that seats 130 students and is fitted with a convection oven, gas stove, induction stoves, deep fryer, griddle and grill. There is an overhead camera and large-screen projector, which faculty members can use to demonstrate a new recipe from start to finish to students while answering their questions.
It is also, appropriately, home to the first green certified teaching kitchen in Canada and is a working example of sustainability and environmental consciousness. It recycles the hot air from the kitchens and uses bio-degradable environmentally friendly cleaning solutions. "Students are challenging institutions to be more sustainable and environmentally conscious," says Darrin Caron, the dean and principal of the CFF.
The site wouldn't be complete without greenhouses and almost two acres of land to grow herbs and vegetables. The front walkway of the CFF is lined with apple vines that will be harvested by the students to make cider, apple sauce and apple crumble.
Don Lovisa, president of Durham College, says that the CFF is a boutique cluster of small programs that stay integrated in agriculture. Students are involved in the planting, harvesting, storage, processing, sale and consumption of food. "We want a culinary student that gravitates to the field-to-fork belief," says Caron.
But the pièce de résistance is a stunning living wall, the cornerstone of the building. "It represents what we're trying to achieve here," says Caron. The living wall refreshes air by taking in carbon dioxide and giving off oxygen with growing herbs. The fresh herbs are hand-picked and used in the culinary labs and kitchens.
Bistro '67 is the campus's 70 seat green certified teaching-inspired restaurant, where culinary and hospitality students work together to prepare and serve meals to the public. The students are overseen by a paid member of the staff, who observes them and gives immediate constructive feedback.
When diners leave Bistro '67 they are encouraged to visit Pantry, the CFF's unique retail store, where they can purchase ready-made meals, jams, preserves, fresh baked breads and much more all prepared by students.
Chef Hugo Baumann of Pine Ridge Secondary School was in attendance at the lunch with Kennedy, along with three of his high school culinary students. Baumann encourages all of his students to apply to Durham College's culinary program. Earlier this year, Baumann brought his culinary students to a Chartwell-hosted farmers' market, where they were able to purchase fresh produce, learn about the culinary program and ask questions.
Durham College's administration is in continuous communications with community and business leaders. This enabled the college to roll out 40 new programs over the last five years to meet the growing demands of industry, says Lovisa.
One such venture includes community partner WindReach Farm. Students are able to gain hands-on experience working in the fields, planting and harvesting fruits and vegetables that will be used within Bistro '67 and Pantry.
This year, students harvested 17 different vegetables, including beets, zucchini and eggplant, which were grown on two acres of land at WindReach Farm. Students also planted, harvested and processed 2,500 pounds of tomatoes.
The CFF truly embodies the field to fork philosophy, and Lovisa sums up the student experience this way: "Our students graduate with a different perspective."
Bistro 67
1604 Champlain Ave., Whitby, ON
Reservations: (905) 721-3312 or visit www.bistro67.ca
Lunch
Tuesday, Wednesday, Thursday and Friday, 11:30 a.m.
Note: Reduced menu from 2 to 5:30pm
Dinner
Tuesday to Saturday, 5:30 p.m.
Note: Last reservation taken at 9:45pm
Field to Fork:
Sowing the Seeds of our Community Crowdfunding Campaign
http://fieldtofork.durhamcollege.ca/
Durham College Centre for Food Programs & Courses

www.durhamcollege.ca/cff
www.facebook.com/durhamcollege
Twitter: @durhamcollege
Connect with Centre for Food
• book a campus tour
• ask questions
• receive invitations to college events
visit https://myplace.durhamcollege.ca/