One of the priorities of Move Magazine is to highlight local businesses and entrepreneurs that are successful and innovative, while at the same time filling a void in their communities and going above and beyond the expectations of their customers.
The people you see on our cover have businesses that exemplify all of those things and more. Each one is unique, offers a service or product that customers love and is located right here in Durham Region.
Here are their stories.
TCHPP
The Centre for Healing and Peak Performance (TCHPP)
is a multidisciplinary wellness and peak performance centre located in Pickering, Ont. TCHPP is primarily focused on not only helping our clients find pain relief from a number of acute
and chronic conditions but also helping them achieve optimal health and peak performance through harnessing both mind and body.
We achieve this goal of integrating body and mind through
our varied services, including manual therapies such as chiropractic, registered massage therapy, physiotherapy, naturopathic medicine and natural nutrition. We also have other services to calm and reduce mental stresses and phobias, including Reiki, meditation and personal coaching.
For more information, visit tchpp.com or call us at 905-420-4325.
Kids Clinic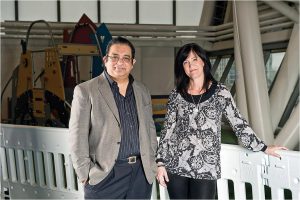 Kids' Clinic in Whitby provides treatment, assessment, programs and services that support families and enhance the overall well-being of children who may have social, emotional and behavioural differences. We believe "healing begins with understanding," and our collaborative approach reflects our commitment to family centred and individualized care.
Kids Clinic Support Services was established to provide families in our community with the benefits of accessible, comprehensive and inclusive services under one umbrella. It is our mission to work collaboratively with families to develop a plan to promote the healthy development of children. Kids Clinic provides integrated services to help children and families maximize their full potential. All individuals and families face different challenges, and our comprehensive services and atmosphere of care and understanding makes us unique in our community.
Ajax-Pickering Board of Trade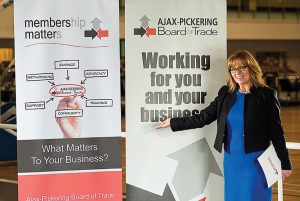 The Ajax-Pickering Board of Trade is your local Chamber of Commerce and has been the voice of local business for 60 years. We advocate on behalf of our members, making local business concerns clear to all levels of government. We all want to save money anywhere we can, and members are often pleasantly surprised to learn that if they take advantage of the opportunities provided, they can often save and generate more cash than they have spent on their membership fees.
We meet multiple times every month and offer member-to-member discounts, a great group health insurance plan, savings on gas, professional development and learning opportunities both online and in person.
If you want to meet other business people just like you, join us! It's fun, profitable and your participation benefits the entire community.
Visit apboardoftrade.com or call (905) 686-0883 x224 for Iris (Edis) Nicolaison
The Abilities Centre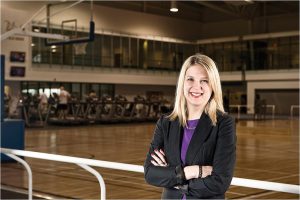 The Abilities Centre opened its doors in June 2012 with a commitment to promoting inclusion and enriching the quality of life for people of all ages and abilities. Almost three years later, the organization continues to set the standard for full accessibility by raising the level of discourse, policies and practices concerning inclusion in Durham Region and beyond.
The determination of the Centre's team to provide high-quality programming in a state-of-the-art facility is evident in the recognition of the Abilities Centre as an International Centre of Excellence for its fully accessible design and inclusive environment. This multi-award winning facility offers a significant contribution to the community. It hosts all of the space and equipment for a complete range of inclusive athletics , arts and life skills programs and much more.
Ring Around the Bin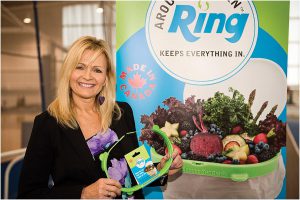 Janet Sirko's journey began years ago when she envisioned a simple solution to the frustrating and messy problem of the bag falling down into the household compost bin. That solution, Ring Around The Bin, was a plastic moulded ring that snapped onto the rim of the bin to stop that annoying problem.
Sirko was convinced that the idea she had pictured in her mind was already on the market, so each Thursday she searched through Canadian Tire flyers looking for this device. It wasn't there. After more research, she realized that every person that had the same compost bin was experiencing the same problem with the messy bag slipping down. She made her decision at that point to seek a way to invent it herself.
Ring Around The Bin is manufactured in Pickering and will soon be available in Canadian Tire stores across Canada.
R&G Automotive
It began in 1972, when Ray Paty Sr. moved his family to Canada from Trinidad and Tobago and opened his first service station. Just 10 years later, he started R&G Automotive, and his son Kirk began to learn about the business, joining his father full time after university.
Kirk's vision, knowledge and entrepreneurial spirit enabled R&G to modernize their operations and eventually expand from their two-bay operation to their current location with six bays. R&G Automotive Centre is now the largest independent repair facility in Pickering, with four licenced technicians and an apprentice on staff. They also operate Value Car & Truck Rental, with three locations in Durham Region.
The pros at R&G Automotive Centre are confident that their operation is not only large enough to effectively service their clients but also small enough to offer their unique brand of personal value-added service.
Mount Everest
Manohar Singh is the owner of the Mount Everest Indian Restaurant in Ajax and an award winner for the past 18 years. Singh came to Canada from Punjab, India in 1988 as a master chef and since then has consistently gained recognition for his dishes, which are all made with home-crushed spices and fresh ingredients.
Mount Everest, a family run business, is a popular spot that is often so busy that it's necessary to make a reservation. Singh attributes the restaurant's success to the support and love of the community. Over the years, many first-time customers have become loyal repeat patrons. The policy is simple, says Singh. "We treat customers like family because that's what they are to us." Staff are known to remember names, birthdays, anniversaries and small but important details – they enjoy working there and the customers love dining there.