Working out at home can be a love-hate struggle.  You love the travel time (steps away from the basement or home gym), dress code (you can wear that stained shirt you would never leave the house in but still love), and choice of music (ahh the 80s). Although convenient, it can be challenging to have the discipline to keep up a routine. You start a warm-up and suddenly notice how dusty the floor is. Out comes the vacuum and, well, now that it's out you might as well continue throughout the house. There goes your workout.
But you can turn that at-home workout waffling into a strong commitment. Here are some tips to help you be consistent, along with some essential exercises that take no equipment.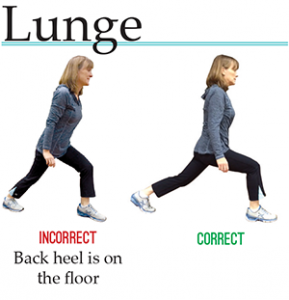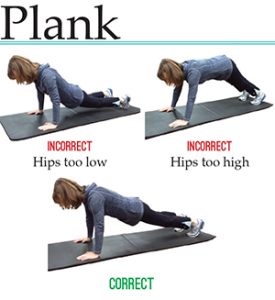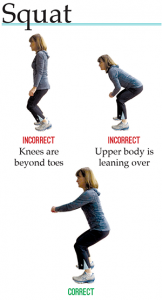 Find a time that works best for your schedule.  For example, if you are a morning person, perhaps waking up a bit earlier to do your workout is best for you. These exercises can be completed in less than 20 minutes (less time than a TV show).
Find an area that is clear of clutter. It does not need to be an entire room, just a space that you can stretch out in. Set the area up in advance so that when you do start, your routine, you know the space is ready.
Find something visually appealing. Work out in front of a large window overlooking your backyard or turn on your favourite TV show while you work out. You will be amazed how quickly time goes by when you are able to focus on something other than the exercise.
Now that you have the proper setting, start off by keeping it simple. If you start a complicated workout, you are more likely to get frustrated or, worse, injured. These three basic exercises work the entire body and are functional (how many times a day do you sit down and stand up – there's your squat).
Learn how to do the exercises properly. These illustrations show the correct and incorrect way of performing the exercises. If you are unsure, watch yourself in a mirror.
Start  with a five-minute warm-up. This could include walking up and down a few flights of stairs, doing jumping jacks or running in place. Do anything that will increase your heart rate and get your body warmed up.
Do three sets of eight repetitions for each exercise. After a few workouts, try 10 repetitions. Once you have mastered the exercises, mix it up by, for example, alternating lunges with a squat in between, or lifting one leg at a time for your planks. Time your planks and try to beat your previous time.  Keep it exciting so you don't get bored with the exercises (or find them too easy) and start to come up with excuses for not working out.
Spend a few minutes stretching after your workout. Simply lie on your back and draw your knees in toward your chest. Take a few breaths, then place one foot on the floor while you extend the other leg up toward the ceiling, holding on to the back of that leg and feeling the stretch in your hamstring. Switch legs. Then bend both knees, keep your feet off the floor (shins parallel to the ceiling) and allow your knees to fall to one side, keeping your arms out to your sides, and looking in the opposite direction of your knees. After a few breaths, switch your knees to the other side and look in the opposite direction.
Camille Cherry, certified yoga instructor/personal trainer, CACYOGA
Cacyoga.com  •  416-629-9820  • Cacyoga@gmail.com